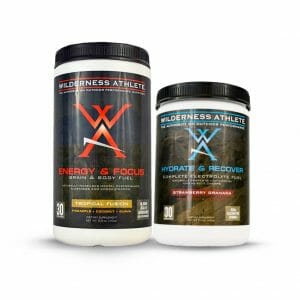 NEWEST GENERATION OF SPORTS DRINKS FORMULATED TO REPLENISH AND REFUEL YOUR BODY
Package contains a tub of Energy & Focus Tropical Fusion AND a tub of Hydrate & Recover® Strawberry Pomegranate!
Combining the worlds most complete hydration formula, Hydrate & Recover®, with the cutting-edge energy-producing ingredients in Energy & Focus, you will feel like the superhero you always wanted to be. Originally developed for professional, Olympic, and other elite athletes, this drink is the healthy, effective alternative to "cult" canned and bottled products.
Wilderness Athlete® is committed to improving the health & quality of life for the outdoor athlete by providing field tested, scientifically validated nutrition and sports performance product formulations
WHO WE ARE
Wilderness Athlete is The Authority on Outdoor Performance Nutrition® specializing in unique, scientifically validated product formulations addressing the need for quality health and physical conditioning for the outdoor athlete before, during and after outdoor activity so every second spent outdoors is experienced to the fullest.
---
Find Wilderness Athlete at wildernessathlete.com
---
How To Place Bid: At the bottom of the that items page, you will find your standard comment section like you see on any other website. Just log in using your Facebook or Twitter and comment with your bid. Just make sure you're higher than the previous bidder. When the auctions are over, I will email you an invoice from Paypal where you will be able to pay by credit card or by your Paypal account. If you would rather write a check, you can make it out to St Jude and send it to me. Once your payment is secured, your item will be mailed to you.