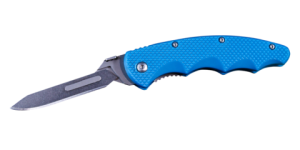 The Arctic fox sports an all-new, steel blue polymer handle with ergonomic finger grooves for comfort during long cutting jobs, and cross-cut texturing throughout the entire handle for non-slip use.
Features include:
4.125" long when closed
7.125" overall length
24 wicked-sharp replaceable blades included.
Wiebe Kinves
The entire collection of products from Wiebe Knives—including hunting knives, field-dressing knives, skinning knives and an extensive lineup of fur-handling tools—were developed, tested and proven by hard-use hunters and trappers. Wiebe's mission is simple: to provide tools of exceptional quality at an unbeatable value.
---
Find Wiebe Kinves at wiebeknives.com and their pages below

---
How To Place Bid: At the bottom of the that items page, you will find your standard comment section like you see on any other website. Just log in using your Facebook or Twitter and comment with your bid. Just make sure you're higher than the previous bidder. When the auctions are over, I will email you an invoice from Paypal where you will be able to pay by credit card or by your Paypal account. If you would rather write a check, you can make it out to St Jude and send it to me. Once your payment is secured, your item will be mailed to you.