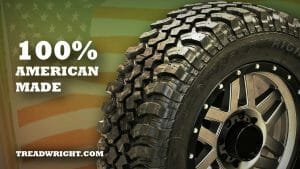 TreadWright Tires, the premier manufacturer of retread truck tires in the U.S. is donating a complete set of tires of your choosing that will be shipped to your door.
TreadWright Tires, a Houston based Light Truck & SUV tire remanufacturing company, has launched a new line of TreadWright branded Mud Terrain and All Terrain tires. These include 33 new sizes and load ranges that are now available at TreadWright.com and select retail tire stores.
"TreadWright Tires is making a commitment to small businesses, retail outlets and government agencies by offering the TreadWright brand on all new A/T and M/T tires. Resellers are looking for a quality brand that differentiates itself with customers and TreadWright delivers an environmental option at an affordable price without sacrificing performance," said Anthony Showen, CEO TreadWright Tires. "These new sizes will cover nearly 70% of the replacement tire market. TreadWright also has the three top selling 20-inch Mud Terrain sizes for your off-road fleet.
TreadWright Tires has been remanufacturing quality tires in the USA for over 30 years. Our mold cure production process uses 70% recycled materials and saves the environment nearly 12 gallons of oil per tire as well as keeping tires out of our nation's lakes and streams. TreadWright Tires offers aggressive on/off road A/T and M/T remolded tires at a cutting edge price point. The mold cure process is the same curing process used in most new tire manufacturing plants. If you want to learn more about our manufacturing process please visit
---
Find TreadWright at treadwright.com and their pages below
---
How To Place Bid: At the bottom of the that items page, you will find your standard comment section like you see on any other website. Just log in using your Facebook or Twitter and comment with your bid. Just make sure you're higher than the previous bidder. When the auctions are over, I will email you an invoice from Paypal where you will be able to pay by credit card or by your Paypal account. If you would rather write a check, you can make it out to St Jude and send it to me. Once your payment is secured, your item will be mailed to you.