HOW ICEMULE GOT STARTED
The ICEMULE™ resulted from a simple need: to carry a real cooler – one that carries real ice – comfortably and easily.
The idea was born on a hot, spring day when founder James Collie was taking a day-long hike with friends in Virginia. Knowing they wouldn't be able to stop for cold drinks along the banks of James River, and unable to find a good waterproof portable cooler, James created a make-shift cooler out of a day pack and double lined it with plastic trash bags. Inside, he filled it with cold drinks and sandwiches.
This seemed like a good idea until the trash bags broke and ice water flooded down his back. A wet hiker, warm drinks and soggy food started the wheels of innovation turning. Once home, he set out to design a soft-sided, waterproof and portable cooler that could carry ice and be comfortable enough to take on both long hikes and relaxing days at the beach.
Several months, dozens of prototypes and many days of field testing later, the ultimate soft-sided backpack cooler was born.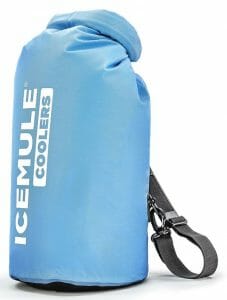 The ICEMULE Classic™ Small has a 10-liter capacity and is the most portable size of the Classic. Perfect size if you need a cooler only for your personal use, or maybe a picnic with your special someone. The Small Classic has you covered by being the smallest, most mobile option we offer.
DETAILS:
Capacity: 10L / 6 cans + ice
In Use Dimensions: 16″ x 8″
Weight: 1.6 lbs
---
Find ICEMULE Coolers at icemulecoolers.com and their pages below
---
How To Place Bid: At the bottom of the that items page, you will find your standard comment section like you see on any other website. Just log in using your Facebook or Twitter and comment with your bid. Just make sure you're higher than the previous bidder. When the auctions are over, I will email you an invoice from Paypal where you will be able to pay by credit card or by your Paypal account. If you would rather write a check, you can make it out to St Jude and send it to me. Once your payment is secured, your item will be mailed to you. A 3.5% fee will be added to all invoices to cover payment fees and additional shipping.