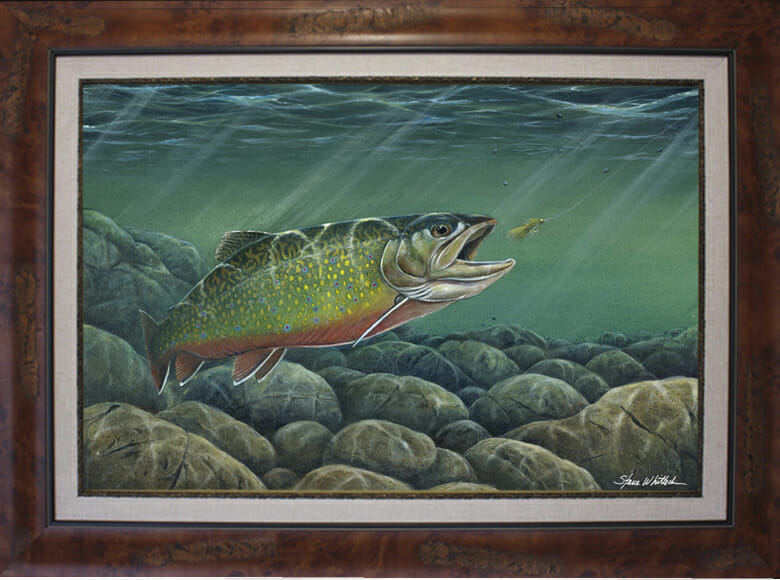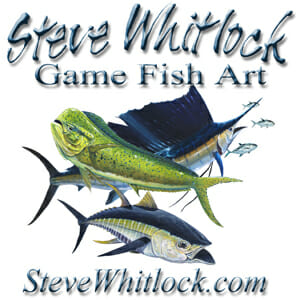 Native Florida Artist Specializing in Saltwater Fish & Sea Life, Freshwater Fish, and Wildlife Art. We also provide Wall art, Apparel, Tervis Tumblers, Decals, and other products for the retail and wholesale markets.
Our business specialties in saltwater game fish fine art and illustrations as well as freshwater fish art, apparel, and graphic designs. Custom commissions are always welcome. For your shopping experience, we provide an online store, and we are also vendors at various street shows & fishing shows throughout the year in Florida & Texas (visit our website and view the Show Schedule tab for information). We provide our art, Tervis Tumblers, Decals, and apparel in various formats for a number of fishing tournaments, fundraisers, charity events, and auctions.
This fine art features an underwater scene of a Brook Trout pursuing a bead head nymph fly. The artwork is a limited edition giclee print reproduction of the original acrylic painting and includes a pecan-bark frame with a linen liner. A hand brushed acrylic finish is applied to the print for enhanced color and protection. Framed art measures 29" x 39".
This donation is made by Steve Whitlock Game Fish Art, Inc. in Sarasota, FL.
---
Find Steve Whitlock Game Fish Art at stevewhitlock.com and their pages below
---
How To Place Bid: At the bottom of the that items page, you will find your standard comment section like you see on any other website. Just log in using your Facebook or Twitter and comment with your bid. Just make sure you're higher than the previous bidder. When the auctions are over, I will email you an invoice from Paypal where you will be able to pay by credit card or by your Paypal account. If you would rather write a check, you can make it out to St Jude and send it to me. Once your payment is secured, your item will be mailed to you. A 4.0% fee will be added to all invoices to cover payment fees and additional shipping.