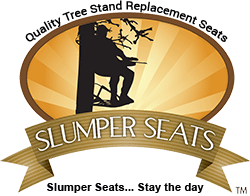 Finally a Tree stand seat cushion designed to fit buddy -2 man stands, The double Wide4 " Slumper comes with a 4″ thick seat cushion or for the ultimate comfort.
The Seats mount to the stands with 3/4 straps with quick buckles to easily mount to your stand and remove when needed.
The fabric is Soft and unbelievably quiet. Its water resistant, but it's not waterproof. Waterproof is NOISY we prefer quiet. We do offer a slip on nylon waterproof cover.
Stand Not included-Seat cushion only!
---
Find Slumper Seat at slumperseats.com and their pages below
---
How To Place Bid: At the bottom of the that items page, you will find your standard comment section like you see on any other website. Just log in using your Facebook or Twitter and comment with your bid. Just make sure you're higher than the previous bidder. When the auctions are over, I will email you an invoice from Paypal where you will be able to pay by credit card or by your Paypal account. If you would rather write a check, you can make it out to St Jude and send it to me. Once your payment is secured, your item will be mailed to you. A 3.5% fee will be added to all invoices to cover payment fees and