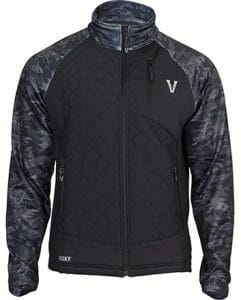 The Rocky Hybrid Jacket is a true testament to our focus on innovation and providing our customer with gear for every environment. This unique piece, in Rocky's own Venator Black camo, almost serves the purpose of two mid-layers. The sleeves are similar in nature to those of a light-weight fleece giving the comfort of our 4-way stretch fabric for ease of motion when drawing your bow or aiming your gun. Yet the body is designed almost like a vest featuring 80 grams of body mapped insulation to ensure warmth at your core. This unique piece, designed for stealth comfort, also features Rocky's ScentIQ Atomic technology to eliminate human scent at the microbial level. Put all of these components into this one jacket and you have a truly unique and versatile piece that is capable and comfortable.
Rocky Scent IQ Atomic destroys human scent control on the microbial level
Lightweight 4-way stretch fabric
Rocky Venator™ camo
Moisture Wicking Quick-Dry Design
SIZE LARGE
---
Find Rocky Boots at rockyboots.com
---
How To Place Bid: At the bottom of the that items page, you will find your standard comment section like you see on any other website. Just log in using your Facebook or Twitter and comment with your bid. Just make sure you're higher than the previous bidder. When the auctions are over, I will email you an invoice from Paypal where you will be able to pay by credit card or by your Paypal account. If you would rather write a check, you can make it out to St Jude and send it to me. Once your payment is secured, your item will be mailed to you.