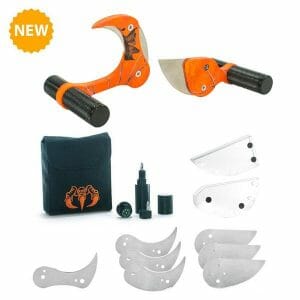 Aluminum Realtree Big Game Skinner & MANŌ Combo
The patented BGS and MANŌ are the ultimate field dressing knives
Hydro Dipped Realtree Orange coating eliminates corrosion from extreme elements and the high visibility orange housing makes it easy to locate and won't be left behind.
This  100 % machined aluminum housing is lightweight and retains superior strength and durability. Its innovative design offers a faster and cleaner way to process game, becoming a multifunctional knife. The hook design cuts from the inside out, Splitting the hair while making a precision cut. It also has the ability to spin 360 degrees around the leg to open the hide and pop the joint. The bottom of the blade becomes your guided skinner. With the blade sandwiched between the housing, it lifts the blade off the meat and hides making for a faster and cleaner job. The T grip handle offers complete control even on the toughest hides and eliminates hand fatigue.
The MANŌ proves to be versatile with its interchangeable blades, Converting from knife to saw in seconds. The combo pack includes: 1 BGS housing, 1 MANŌ housing, 2 handles with survival compartment, each with extra screws, Non slip knurling grip,  Phillips screwdriver for quick disassembly when cleaning and switching out blades, 6 blades; 3 for each knife, 2 guards, carrying case with belt loop and Velcro cover. (Total weight is 1.41 oz) Retail $164.99
Includes:
1 MANŌ Housing
1 Big Game Skinner Housing
2 Signature T-Grip Handles

Waterproof Survival Compartment with 2 Extra 10/24 Stainless Screws
Removable Phillips Bit
Bit Holder (Holds Up To 4), with Included Spare Phillips Bit
Non-Slip Knurling Grip
Interchangeable Bit Driver for Quick Disassembly When Cleaning and Switching Out Blades.

3 MANŌ Blades
3 Big Game Skinner Blades
1 Marine Big Game Skinner Blade
2 Safety Guard
Carrying Case

Integrated Belt Loop
Velcro Closure
Internal Pocket for Second T-Handle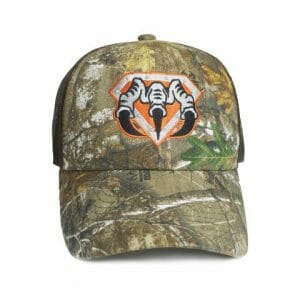 Realtree Edge Super Claw Hat 
A great addition to your RaptoRazor gear. Pick up one of our heavy duty cotton twill hats. Fully adjustable for one size fits most size scale. Retail $14.99
---
Find Raptorazor at raptorazor.com and their pages below
---
How To Place Bid: At the bottom of the that items page, you will find your standard comment section like you see on any other website. Just log in using your Facebook or Twitter and comment with your bid. Just make sure you're higher than the previous bidder. When the auctions are over, I will email you an invoice from Paypal where you will be able to pay by credit card or by your Paypal account. If you would rather write a check, you can make it out to St Jude and send it to me. Once your payment is secured, your item will be mailed to you. A 3.5% fee will be added to all invoices to cover payment fees and additional shipping.