Panteao (pan-tē-ō) is Portuguese for Pantheon, which means "a temple or place for the gods" or "a group of persons most highly regarded for contributions to a field or endeavor". The name is fitting since Panteao Productions offers instructional videos taught by the world's most experienced and highly regarded instructors from the tactical and self-defense community.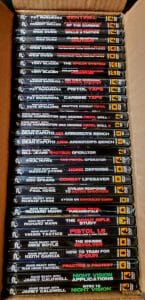 Panteao is your one stop source where you can learn from the best firearms instructors, survival experts, and hunters available anywhere, anytime. Our exclusive content covers everything from empty hands, knives, and basic firearms skills to concealed carry, tactical training, vehicle tactics, shooting sports, and much more. Our Make Ready to Survive series covers everything from short term prepping to long term disasters. We also have the WILDCraft series on hunting, Wilderness to Table cooking series, and strength training videos. Our exclusive documentary videos take you behind the scenes to firearms manufacturers, interviews, and round table discussions on a wide range of topics. We also have product review videos.
Our content is available on DVD, in SD and HD digital downloads, and streaming to subscribers. Subscribers have unlimited access to the entire Panteao video library so that you can watch what you want – when you want – as often as you want. You can stream hundreds of videos seamlessly across all your devices in SD, HD and UltraHD. New exclusive video content is added each month.
No one else delivers this much content from so many vetted and proven instructors all in one place.
This auction is for a complete 30 DVD video series on everything about guns from learning about your pistol or shotgun, tactical shooting, and even night vision.  Package value over $400
---
Find Panteao Productions at panteao.com and their pages below
---
How To Place Bid: At the bottom of the that items page, you will find your standard comment section like you see on any other website. Just log in using your Facebook or Twitter and comment with your bid. Just make sure you're higher than the previous bidder. When the auctions are over, I will email you an invoice from Paypal where you will be able to pay by credit card or by your Paypal account. If you would rather write a check, you can make it out to St Jude and send it to me. Once your payment is secured, your item will be mailed to you. A 4.0% fee will be added to all invoices to cover payment fees and additional shipping.