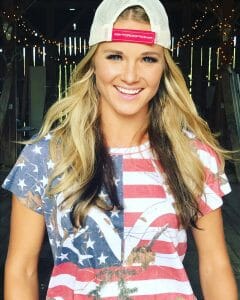 This auction is for a signed Nightforce cap from country singer and Outdoor Channel star
Kristy Lee Cook
Nightforce Accessories, the only possible way to improve your Nightforce riflescope. Your riflescope needs a solid platform to ensure you are getting the maximum performance out of your rifle and optic.
About Kristy
Kristy Lee Cook first gained fame as a Top 10 finalist on Season 7 of FOX's American Idol.  Since Idol, Cook has continued to stay in the spotlight by hosting her own television program on The Outdoor Channel titled "Outdoors 10 Best," and starring in the Versus reality series, "Goin' Country."
Influenced at a young age by such vocal powerhouses as Whitney Houston, Shania Twain and Garth Brooks, the Selma, OR native began singing at gigs around and near her hometown when she was only 13 years old.  With an intense love for Country music, horses and the outdoors, Cook's energetic, girl-next-door approach to both her songwriting and music epitomizes the Country lifestyle.
Now signed to Broken Bow Records – whose roster includes multi-platinum superstar Jason Aldean as well as chart-topper Dustin Lynch – Cook's poignant singles "Airborne Ranger Infantry" (inspired by poems written by her father while serving in the Vietnam War) and "Wherever Love Goes" (a duet with Randy Houser) were critically-lauded. Kristy is also the star of "The Most Wanted List," airing the Sportsman's Channel.
---
Find Nightforce at nightforceoptics.com and their pages below
---
How To Place Bid: At the bottom of the that items page, you will find your standard comment section like you see on any other website. Just log in using your Facebook or Twitter and comment with your bid. Just make sure you're higher than the previous bidder. When the auctions are over, I will email you an invoice from Paypal where you will be able to pay by credit card or by your Paypal account. If you would rather write a check, you can make it out to St Jude and send it to me. Once your payment is secured, your item will be mailed to you.