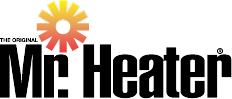 The Hunting Buddy propane heater
. This patented radiant 6,000-12,000 BTU Liquid Propane heater connects directly to one 1 lb. cylinder and is the perfect solution for heating enclosed spaces like cabins up to 300 sq. ft. A swivel regulator gives you the ability to adapt usage from disposable cylinders to a remote gas supply with the purchase of a single hose and filter. To light the unit, simply push and rotate the knob. The built-in silent electric ignition will take care of the rest. With the Oxygen Depletion Sensor (ODS) and accidental tip-over safety shut-off, you can be sure that you will enjoy years of comfortable indoor safe heat.
6,000 or 12,000 BTU per hour
For use with propane gas
Heats up to 300 sq. ft.
Single control start knob
Hi-Low heat settings
Silent electronic ignition
Swivel regulators
Automatic low oxygen shut-off system (ODS)
Accidental tip-over safety shut-off
Connects to one 1 lb. cylinder
Connects to a 20 lb. cylinder with optional hose
THE USE OF UN-AUTHORIZED ACCESSORIES/ATTACHMENTS WITH THIS HEATER ARE EXPRESSLY PROHIBITED, MAY CAUSE SERIOUS INJURY, AND WILL VOID THE WARRANTY.
Retail Value: $157.00
---
Find Mr. Heater at mrheater.com and their pages below
---
How To Place Bid: At the bottom of the that items page, you will find your standard comment section like you see on any other website. Just log in using your Facebook or Twitter and comment with your bid. Just make sure you're higher than the previous bidder. When the auctions are over, I will email you an invoice from Paypal where you will be able to pay by credit card or by your Paypal account. If you would rather write a check, you can make it out to St Jude and send it to me. Once your payment is secured, your item will be mailed to you. A 4.0% fee will be added to all invoices to cover payment fees and additional shipping.