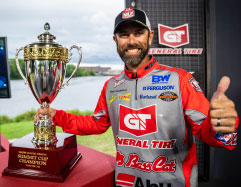 Mike Iaconelli is a South Philly native, now living in New Jersey. He's had a passion for fishing since childhood and has been competing in fishing tournaments since high school. Since that time, Mike has won, or come near winning almost every major award in tournament bass fishing, most notably the 2003 Bassmaster Classic and 2006 Angler-of-the-Year awards. Other noteworthy achievements include:
2014 Delaware River BASS Elite Series Champion
2013 Lake Erie BASS Northern Open Champion
2008 Stren Series Northern Division Points Champion
2008 Winner Kerr Lake Stren Series Northern Division
2006 Bass Angler of the Year
2006 Winner BASS Southern Challenge
2005 Winner FLW Chevy Open
2003 Bassmaster Classic Champion
2002 Winner Georgia Tour
1999 Winner Vermont Top 150
1999 Wrangler Angler
1998 Winner BFL Champlain
1998 NJ B.A.S.S. Federation Mr. Bass
1997 Redman Points Champion
1994 Winner NC Top 100 Amatuer Division
Find Mike Iaconelli at mikeiaconelli.com

THE YAMAHA ADVANTAGE
Reliability + Performance
WHEN YOU WANT IT ALL OUT ON THE WATER.
Reliability. Performance. Innovation. It all starts right here. And that's exactly why so many boaters won't trust anything but a Yamaha out on the water.  Yamaha Outboards has proudly operated in the U.S. market for nearly 30 years. In that time, our engineers have become known for their relentless pursuit of a more satisfying boating and ownership experience for customers. As a result, Yamaha Outboards have become synonymous with innovation, performance and legendary reliability.
Find Yamaha Outboards at yamahaoutboards.com