ONE CHANCE. ONE SHOT. ONE CAMO.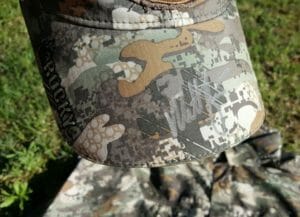 Rocky footwear and apparel is designed to give you the confidence to succeed wherever your pursuit takes you. Rocky
is proud to introduce the new Venator
camo. During the two years of consumer research and field testing, Rocky took inspiration from a wide variety of terrains and vegetation-from barren, rocky scrubland to trees dotting snow-capped peaks, and everything in between. The result is a camo that can be worn across the United States. Venator camo provides the visual elements to give the hunter the stealth needed for any hunt, in any environment. Not only does the camo provide hunters with the stealth they need; the layering system provides superior warmth, stretch and breathability. Through the use of natural and synthetic yarns, styles that feature our Venator camo offer superior comfort and performance.
Find Rocky Boots at rockyboots.com
Matt Hagan
Matt Hagan
and the Mopar Express Lane/Rocky Boots Funny Car team led by crew chief Dickie Venables and assistant Michel Knudsen had a successful 2015 season as reigning Funny Car world champions that was highlighted by winning the season opener at Pomona and at the next event in Phoenix.
The team went on to claim two more event titles over the 2015 season along with four No. 1 qualifying positions.
One of the biggest accomplishments for the Mopar/Rocky Boots
team was making the first 3.8-second pass in a Funny Car with a 3.879-second pass that is the quickest ever recorded by a Funny Car. At the season finale in Pomona, Calif., Matt's Dodge Charger R/T posted a national record speed of 331.45 mph for the fastest ever run on a 1,000-foot track came two months after he became the first to reach 330.
The team finished the season fifth in Funny Car points standings with two-time champion Hagan. Venables and Knudsen will lead the team in the 2016 Mello Yello Series.
Matt won the 2011 and 2014 NHRA Funny Car championship for Don Schumacher Racing.
Find Matt Hagan at matthaganracing.com