Rocky Headquartered in Nelsonville, Ohio, the ROCKY® brand continues to be a world leader who designs, develops, manufactures and markets premium quality, rugged Outdoor, Work, Western, Duty and Military footwear
as well as Outdoor and Work apparel and accessories. Innovation, quality, and durability are hallmarks of the ROCKY® brand name. The Company continually monitors the development of innovative raw materials and has distinguished its branded products by incorporating new fabric and technologies into the design of its footwear and apparel. Over 13,000 retail, online and catalog outlets carry ROCKY® footwear worldwide. The Rocky goal to provide quality outdoor and occupational footwear has not changed since the doors opened over 80 years ago.
Rocky footwear
and clothing is for people who are active, engaged and on the go. Rocky's superior comfort, design, insulation, and waterproofing system empowers them to achieve their personal best and gives them the confidence to succeed – ROCKY IS CONFIDENCE IN ACTION.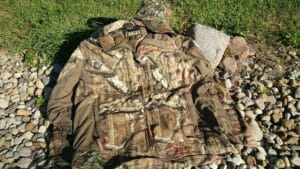 This auction includes a Rocky Footwear jacket (size large) in Mossy Oak and a Rocky Camo cap signed by Shawn Michaels and Keith Mark of MacMillan River Adventures that airs on the Outdoor Channel.
Find Rocky Boots at rockyboots.com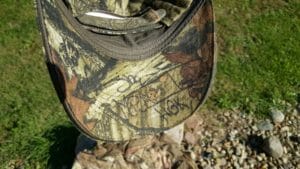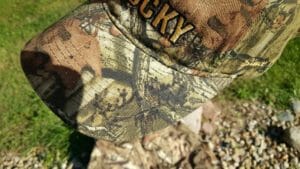 MacMillan River Adventures
Shawn Michaels
' MacMillan River Adventures showcases the extraordinary talents of WWE Legend and Hall of Famer Shawn Michaels.
Shawn will join his good friend and longtime show host Keith Mark, owner and operator of the original MacMillan River Adventures camp in Yukon, Canada, as they hunt their way across the globe for the largest big-game animals in some of the most exciting settings ever filmed.
When asked about the show, Shawn said, "This is more than a hunting show – this is a show about the hunting lifestyle. Anybody who knows me knows that when I get into the ring, I bring all of the passion and commitment that my soul can muster. This show captures the same passion and commitment that forms the hunting lifestyle that my family chooses to live."
Shawn Michaels' MacMillan River Adventures has been billed as one of the most anticipated shows in years and is set to be an original and exciting series — tune in and catch the adventures with Shawn and Keith!
Official Site: http://mrahunting.com/
Find Shawn Michaels at theshawnmichaels.com