Keith Mark comes from generations of hunters, so it comes as no surprise that this fifty-four year old outdoorsman has been hunting all his life, having been introduced to the family legacy by his father, Robert Mark.
Although skilled in all hunting disciplines, Keith has specialized in bow hunting for more than thirty-five years and is fast becoming one of the most recognized hunters in the sport today. Add to that the considerable success Keith has had with the crossbow, his muzzleloader and rifle over the past several years and it would be difficult to find a more enthusiastic big game hunter.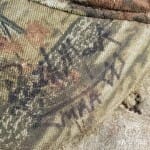 Find Keith Mark at mrahunting.com
Rocky Boots
ROCKY Boots® is a world leader in rugged outdoor and occupational footwear. Nearly 3,000 retail and catalog outlets carry ROCKY footwear. The ROCKY goal to provide quality outdoor footwear has not changed since the doors opened 70 years ago.
Find Rocky Boots at rockyboots.com