The Mac Daddy Caddy is a revolutionary mobile hunting chair, designed to take all the work out of transporting gear to and from your favorite outdoor adventure.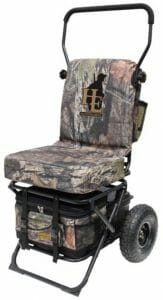 Whether you're pushing or pulling the Mac Daddy Caddy TM, you will have to marvel at how easy it is to maneuver, and how relieved you will be not having to carry all your gear by hand. The Mac Daddy Caddy can easily be placed into the back of a pick-up truck, SUV, or trunk of any medium size vehicle. Comfort, convenience, and mobility create the Mac Daddy Caddy TM by Hunter's Edge.
"Mule" Features
10-inch all-terrain air tires
360-degree silent swivel seat
3-inch density foam bottom cushion
2-inch density foam back cushion
18-can soft side camo cooler
Heavy-duty 12x9x5 plastic accessory box
4-separate storage pouches
2-water bottle holders
Large camo shell pouch
600-Denier water-resistant fabric
Weighs 33 lbs. Measures 21″x 16″ x 34.5″h
Supports 300-lb static weight capacity
---
Find Hunter's Edge at hunters-edge.com and their pages below

---
How To Place Bid: At the bottom of the that items page, you will find your standard comment section like you see on any other website. Just log in using your Facebook or Twitter and comment with your bid. Just make sure you're higher than the previous bidder. When the auctions are over, I will email you an invoice from Paypal where you will be able to pay by credit card or by your Paypal account. If you would rather write a check, you can make it out to St Jude and send it to me. Once your payment is secured, your item will be mailed to you. A 3.5% fee will be added to all invoices to cover payment fees and additional shipping.