At Havalon, we're redefining sharpness. Our longer-lasting, surgically sharp replaceable blades lock onto lightweight handles with our secure Quik-Change™ fitment, saving you valuable time and energy. Forget the heavy packs and upgrade to a lighter load with Havalon.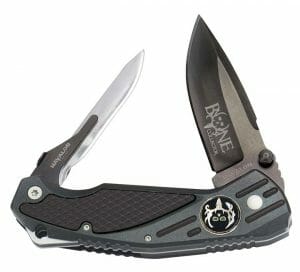 The Bone Collector Signature Series Havalon Rebel is the perfect combination of traditional and modern hunting knives. Designed under the direction of the Bone Collector Team, the Rebel features a traditional drop point folding blade on one side and a Havalon Quik-Change fitment on the other.
The fixed blade on the Rebel is the ideal do it all blade. Composed of premium AUS-8 stainless steel, the blade is then cryo-hardened and finished off with a black titanium coating to create a perfect balance of strength and sharpness.
What sets the Rebel apart, is the Havalon Quik-Change replaceable blade system. The Quik-Change system ensures users always have the sharpest possible blade. As the blade begins to dull, it can be taken off and replaced with a new one in a matter of seconds. The Rebel comes with seven of our world-famous 60A blades and two of our brand new gut hook blades. The ability to switch between the unmatched sharpness of a 60A blade and the functionality of a scalpel-sharp gut hook creates versatility that has never been seen before on a hunting knife.
The combination of a traditional fixed blade and an ultra-modern Havalon Quick-change fitment all on one handle makes the Rebel an exceptional knife for hunting and everyday carry.
● 3 1/16" AUS-8 stainless steel blade with cryogenic edge hardening treatment and black Ti hard coating
● Fiberglass reinforced handle with injection-molded nylon handle scales and rubber checkered grips
● Havalon Quik-Change replaceable blade system
● Includes 7 total 60A Blades and 2 gut hook blades
● Bone Collector Signature Zipper Holster
---
Find Havalon Knives at havalon.com
---
How To Place Bid: At the bottom of the that items page, you will find your standard comment section like you see on any other website. Just log in using your Facebook or Twitter and comment with your bid. Just make sure you're higher than the previous bidder. When the auctions are over, I will email you an invoice from Paypal where you will be able to pay by credit card or by your Paypal account. If you would rather write a check, you can make it out to St Jude and send it to me. Once your payment is secured, your item will be mailed to you. A 3.5% fee will be added to all invoices to cover payment fees and additional shipping.