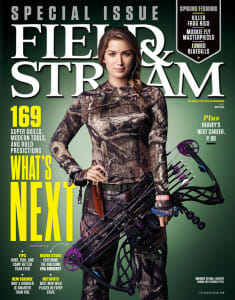 Eva Shockey knows what it means to be part of the Outdoor Industry. Growing up with Professional Hunter and Television personality, Jim Shockey, as her father, Eva was brought outdoors and in front of the camera at an early age. With a combined passion for conservation and adventure, Eva is now a full-fledged 'Outdoor Channel' and 'Wild TV' personality and is quickly making a name for herself within the industry as a proud, female outdoors-woman. She spends over 250 days per year traveling the world to co-host "Jim Shockey's Hunting Adventures" as well as representing the Outdoor Channel as host for various TV specials and red carpet events. Eva is linked with various well-known outdoor brands, like Crosman, Mossy Oak and HunterCourse and makes guest appearances at trade-shows and fundraisers across Canada and the USA.
Find Eva Shockey at evashockey.com
Skull Hooker
Skull Hooker is the world's first professionally crafted and fully adjustable European skull mounting bracket that naturally showcases your trophy game animal in the most stylish and realistic way. This dynamic mount system is not only incredibly sturdy, but also quick and easy to install. The SkullHooker euro skull hanger brackets are available in two different sizes and colors to accommodate a variety of species' horns or antlers.
The wall-mounting bracket eliminates the need to drill holes into your trophy's skull, because the hook is carefully engineered and precisely designed to caress the native holes and crevices in the back of all animal skulls.
The European skull hanger can be positioned up/down and left/right to display the best qualities of each antler or horn set that you own. The Skull Hooker euro skull brackets are available in two different sizes (Big Hooker or Little Hooker) and colors to accommodate a variety of species' horns or antlers and more importantly provides a natural upright look The Skull Hooker arm can safely swivel both right and left, which helps your trophy mount cover all angles and areas of a room.
This unique mounting system is a great way to get a professional and elegant display of your hard earned trophy that you can be proud of. The Skull Hooker mounting system comes complete with all necessary hardware to securely display your trophy for a lifetime fully of rich memories. We also have a 100% return policy available under the rare circumstance that you may want to return the item.
Find Skull Hooker at skullhooker.com