Established in 2009, BEX is one of the leading product design and eye-wear brands in the world. Chosen by customers for its superior comfort and affordability. The professional standard in lightweight eye-wear design. BEX is created to generate minimal movement on your face, no matter what activity you are engaged in. BEX continued on its success as the fastest growing eye-wear company in apparel and accessories; offering men's and women's product lines that appeal to performance, outdoor active, and lifestyle consumers. Featured in Forbes, BEX is both grateful and energized by the overwhelming support by our loyal customers. We are proud to say that we are an American owned company. #BEX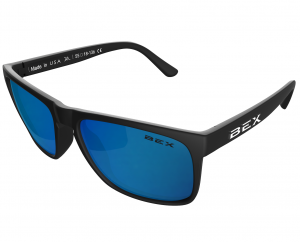 The JAEBYRD Sunglasses: 
Len's Color: (S67BG) Live Gray lens, (S67BGS) Live Gray lens with BEX ® Slash coating, and (S67BGB) BEX ® Forest Shade lens tint with Sky Echo Coating.
Frame: TR90 nylon frame. Made in the USA.
Nosebridge/Top Bar: Built into the frame.
Temple Construction: Reinforced TR90 nylon with stainless steel pin.
Lens's Protection: BEX NYPO ® Polarized, UVA, UVB, UVC and Blue Light protection. Oleophobic (oil protection), hydrophobic (water protection), anti-scratch and anti-reflection (back side) coatings.
Size: Lens height 40mm, lens width 55mm, nose bridge width 18mm, temple from hinge to tip 136mm.
Retail: $120
Every order comes with premium packaging, an EVA molded sunglass case, and cleaning cloth.
---
Find BEX at bexsunglasses.com and their pages below
---
How To Place Bid: At the bottom of the that items page, you will find your standard comment section like you see on any other website. Just log in using your Facebook or Twitter and comment with your bid. Just make sure you're higher than the previous bidder. When the auctions are over, I will email you an invoice from Paypal where you will be able to pay by credit card or by your Paypal account. If you would rather write a check, you can make it out to St Jude and send it to me. Once your payment is secured, your item will be mailed to you. A 4.0% fee will be added to all invoices to cover payment fees and additional shipping.